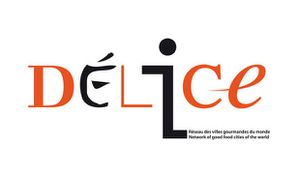 Not every city has a food strategy. They should.
Last week I was in Barcelona, invited at the Délice network meeting as facilitator. The topic was gastronomic marketing for cities. We saw there that, from Brussels to Madrid, from Helsinki or Leipzig to Chicago, food culture is obviously different in many ways, as is food strategy. But what we also saw is that gastronomy - and food in general - can be a strategic asset, one that we should not ignore.
Food is very important to city marketing, and vise-versa. Food is part of the culture of a city or a nation, it's part of its symbolic capital. Even so if the city doesn't have a strong gastronomic identity. It is important because food is not only about stomachs, but also about quality of life, about meeting people, sharing experiences, sharing a taste. Food comes with an imaginary and with rituals, it's a social construction. It can be understood as part of the symbolic capital of a city.
When it comes to gastronomic matter, the food symbolism is special. Gastronomy is about food, « good » food, it's a gourmet matter. It is based on the values of hedonism - a strong hypermordern value - and excellence - making food or meal experience the best we can. Gastronomic marketing is a way to share this sense of hedonism and excellence, making everyone a gourmet. Because taste is something we learn, as Bourdieu once shown, taste is a social construction. So, sharing and learning should be objectives for gastronomic city marketing. City brands are about meaning of a city for inhabitants and tourists.
To build a city brand, we have to build consistency. So, gastronomic city marketing and branding ar not only about strategy, but also about meaning. Here's a simplified semiotic inspired brand model, composed of three levels, that can help understand the meaning pattern of a city brand :
1.Values --> 2.Stories --> 3.Experiences
1. Values - the axiological level : What are the values shared through gastronomy and food strategy ? Food comes with values. Northern European cities often build food strategy on natural and sustainability values, while Southern European cities will go with a quite different content. Values are the structure for the levels of stories and experiences.
2. Stories - the narrative level : What are the stories shared through gastronomy ? Stories of unexpected meetings ? Stories of competition between Chefs ? The narrative level is dynamic, and is grounded in the first level of values.
3. Experiences - the phenomenological level : this is where values and stories come to the material world. Sensations and practices take place at this level of the brand model. An exemple is the crowd experience you can have with street food.
Place branding is about meaning and strategy, it's about building consistency through values, stories and experiences. Gastronomy and food should not be ignored and should be taken seriously by political leaders and place marketing managers as a strategic asset, a symbolic capital for cities and places.
This semiotics-inspired approach of a city brand and gastronomic marketing has to be completed by a strategic analysis : What positioning strategy to adopt ? Does the city have a gastronomic icon ? How to build one ? With what other city to make alliances and co-branding operations ? Is an event strategy relevant ? Or storytelling strategy ? And so on… A branding strategy for a city has to be rooted in a global city strategy and a global vision. But this is up to political leaders to propose this vision and and to implement a global strategy.
City branding should not (only) promote and advertise culinary identity, but also take care of the gastronomic sense of place of a city. Strategies that involve and engage chefs, people, students, gourmets and gastronomic amateurs, that involve entrepreneurs of the city, are really interesting. We have to remember that a city brand is Janus-like (ancient roman god), two sided : intramuros and extramuros. The intramuros side must not be forgotten, because this is where the sense of place is created.
Thanks to Raphaëlle and Jean-Michel from Délice network in Lyon, to Manel and the Barcelona Turisme team for its rainy but warm welcome, and to all the participants from Bordeaux, Brussels, Chicago, Gothenburg, Helsinki, Lausanne, Leipzig, Lisbon, Lyon, Madrid, Riga, Stavanger, and Turin.
Pour être informé des derniers articles, inscrivez vous :